SDC Company is introduced in 1996 and focused in exporting of China granite, marble, slate and other natural stones.

Our strategy is to gear up quality control, reinforced punctual delivery, offer honest transation at reasonable price, provide good service at a timely manner and build up credibility.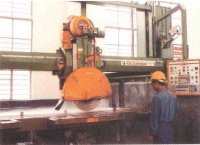 Our goal is to setup long term customers in a mutual profitable business.

After years of unremitting endeavor, we have acquired a list of stabled and satisfied customers in the United States, Europe, Australia and Asia. Most important, we have promoted ourselves as a honest merchant for quality granites.

SDC supplies customized sizes and shapes for paving, wall cladding, bathroom vanity, kitchen bench, table tops and flooring tiles. We also produce carved stones,statues, tombs/memorials, lanterns, fountains and gardening furniture.

We are familiar with custom design manufacturing. With thorough knowledge of the different technical terminology acquired overtime. We are comfortable to work to your requirement.
SDC Stone Plus Ltd.
Email: market@sdcstone.com
Unit 1212, New City Centre,
No. 2 Lei Yue Mun Road, Kwun Tong, Hong Kong
Tel : (852) 2529 3610, Fax : (852) 2529 6277, 2529 3980