Granite / Marble Vanity tops & China Bowls
We fabricate vanity tops, & supply China Bowls as Supplementary products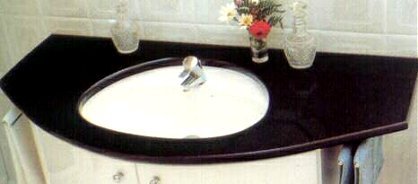 We are familiar with custom design manufacturing. With thorough knowledge of the different technical terminology acquired over time. We are comfortable to work to your requirement. (See more granite vanity tops,) (See more marble vanity tops)


Marble Vanity Tops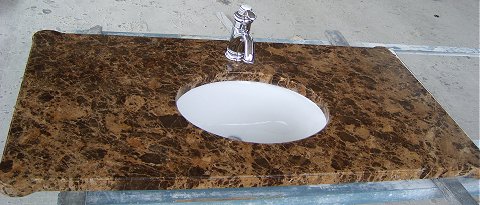 We are skillful for producing varies bathroom vanity tops :
The shape are available for straight front, bowed front, banjo front. Bathroom vanity tops with facial slot cut-out, straight or arc apron, backsplash, end splash, vanity skirt, soap dish, toilet tissue cut-out would all be produced per your drawing. Sink cutout and faucet holes, would be make drilled on your request for under mount porcelain sinks. And we also supply China Bowls (Porcelain Basins, Porcelain sinks) as Supplementary products

We also produce Tub Surround, Tub shelf, Shower Surround, Thresholds, Window Sills, Thresholds and all related bath room granite and marble products.

The vanity tops could be fabricated with different kind of edges, like Eased, Bevel, Double Bevel, Bullnose, Semi-bullnose (Half Bullnose) Full Bullnose, Ogee, Ogee Bullnose, Miter Ogee, Dupont, Double Dupont, Dupont Bullnose, Quirke, Double Dupont, Offset Dupont, Bullnose/Inverted Ogee, Waterfall, Rockface, Radus Top/Bottom, Flat Standard, Radius Top and Mitered.
Undermount China Bowls, porcelain Basin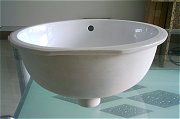 Click to see all Bowls with details


Hotel & Residential


Building Supply


Other Products